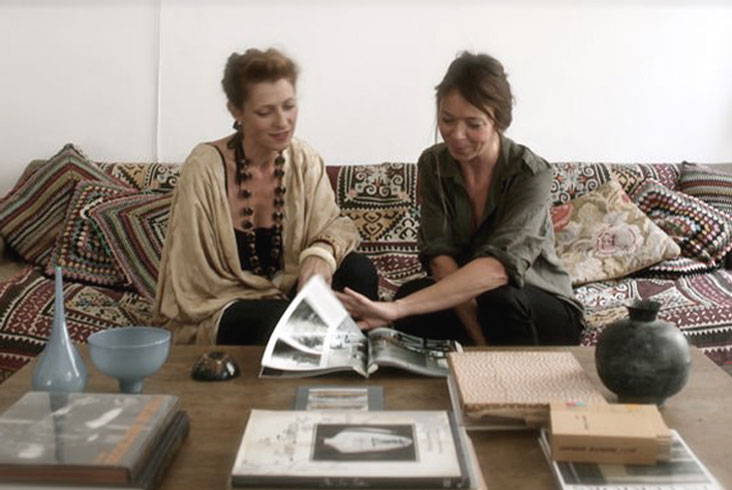 About us...
We are Lisa Richardson and Niki Robinson, two freelance fashion designers who moved to Barcelona from London and Milan 6 years ago. With our shared love of all things antique and vintage we felt completely at home in this wonderful city with its historic mix of gothic mystery and modernist sophistication. We have spent the past 6 years discovering and uncovering the best of Barcelona's vintage, antiques, food and fashion and look forward to sharing our experiences with you.

The Story So Far
What happens when you move to a cool, happening Mediterranean city that happens to lie on a beach? You get plenty of visitors…. With international friends coming to visit us every weekend we came to realise that we were slowly turning into Barcelona's hardest working guides. Sharing our like minded curiosity…we would take them to meet our friends in studios, galleries and boutiques across the city; proudly presenting all that makes Barcelona special and unique. This was the inspiration behind Antiques and Boutiques - a way to share our knowledge, discoveries and excitement with the world. A way to give people the kind of knowledge you can only get from a local. Antiques and Boutiques began as a labour of love before organically turning into the thriving business that it is today.
Why Choose Us?
Where do we begin?! We offer the sort of insider knowledge that you only normally have access to when visiting a city to meet a friend who lives there. No two cities are the same, and so we pride ourselves on ensuring that every single one of our tours is a little bit different, tailor made, both to capture the true essence of the place and make sure you have a trully memorable eperience. Your tailor-made adventure, will get you straight to the heart of the city introducing you to local culture, designers and artisans along the way. If you're looking for the perfect dress we'll visit private studios and independent boutiques until you've found exactly what you're after. If you want to find a specific piece of furniture, we'll introduce you to specialist dealers and private galleries that only the locals know about. If you simply want to get to know a neighbourhood, we'll guide you on a lazy afternoon of wandering, with plenty of pit stops to try out the local delicacies. Everything about the process is natural. We simply want to introduce you to the true spirit of a city through its inspiring people and places - the makers who share our passion for quality and durability. Whatever you take away from your tour, whether it is an antique necklace, a local rug, or simply memories; we're sure that it will stand the test of time.
What next?
Our background in design teamed with our sense of globetrotting adventure means that we have friends in cities across the globe. We believe that what we have created with Antiques & Boutiques is special and will work perfectly in the world's most exciting destinations. London, Florence and Milan were the next natural step, as they are all cities that we have spent time living in. In all of these cities (and more to come), we will work closely with creative and dynamic local insiders to design tours that celebrate the nuances of each head-spinningly special metropolis.
Our Team
Some of our hand picked team of creative, dynamic and wonderful insiders who are all lovely and we'd definitely want to spend an day with !
Lisa is a fashion designer with a weakness for vintage clothes and red wine. A natural hunter-gatherer she loves travelling, discovering new places and collecting inspiring pieces to decorate herself and her home. Born and bred in Wales she spent 5 years working in Italy and eating delicious pasta before jumping ship to Barcelona where she now enjoys the delights of living in a city by the sea..

Niki,  freelance shoe designer (with a far too many shoes), foodie, traveller, collector, dreamer and  lover of vintage cars and costume dramas. She lives in Barcelona with Joe, her boyfriend, accomplice and DJ partner. When they're not eating their way around the world, they might be found playing some of their vinyl record collection at various events in London, Barcelona and beyond.

Indigo Sarah Millar was born in the mountains of Montana and grew up making a mess in her mother's art studio and playing dress up in her fathers vintage clothing store. She moved to Florence to study design for a year and surprisingly never left. She currently makes costumes for dance and theater productions and lives with her husband Vassili and tiny cat douglas.

Born in Red China; grew up in suburban Australia; when chance brought Shan to study contemporary art in Europe, she fell for its beauty and made it home.  A lover of all things visual, creative and artisanal, she is just as happy in a museum as she is in the hidden alleys of the city, searching for emerging voices of fashion and design. Her Asian stomach is of course still hunting down the best dumpling in Europe.

Buster is a Londoner living the life in Barcelona. He is a chef, trained at the famous Hoffman school and cut his teeth in places like 'St John ' in London. He knows his food,  has a passion for getting to the source and can often be found at a local farm  in the Catalan countryside. If you're lucky he'll be running a pop up restaurant when you're here and if not he'll help you to taste your way around Barcelona.

Emily Grace, Personal Shopper, red-head, eldest of 4 siblings, gourmand and lover of period dramas and romance novels. Practises Ashtanga yoga and likes running in the rain. Lives with Tom, an interior and product designer/maker in Highbury & Islington with lots of bikes and shoes. Can spend hours wandering, taking pictures and finding little places to eat and window shop.

Ariana is an actor and an accessories designer . She has a small business  in custom made  accessories called Original Noodle (her nickname growing up.) She  loves typography, news print & bespoke design. Her wares can be found in various  boutiques throughout London.  She also has a penchant for vintage which hails from  her 4 year stint in NYC , enjoys city life and eating wonderful food!

Angelo may have a masters  in archaeology and might appear to be a little obsessed with his  books, but that doesn't mean he can't be found in an enoteca savoring the latest Franciacorta. Educating and entertaining come hand in with Angelo when he takes you for a ride through the city of the Renaissance, Michelangelo, and Dante. What better way to see Florence…

Hannah Mccloud started life at Vogue as the assistant to the Publishing Director, and then went onto InStyle to work as the fashion assistant, and has since freelanced at Glamour, Tank and Vogue Russia. She currently works as a freelance stylist in television,  knows London inside out and would love to share her secret address book with you..

Claire is a  London-based DJ and freelance journalist specialising in culture and events and regularly writes for the likes of the Guardian Guide, Time Out, FACT, 'SUP and Hunger magazines. She can also be found working from time to time in the cool east end boutique Hub. She loves the city and has a great knowledge of the shops restaurants and bars, especially in her local area East London.

Milos is an architect and freelance lecturer living in Barcelona since 2007.  He has a passion for architecture, life, travel  and the thrives from the unique energy of every place. His ethos is that there' s no better way to get to know the architecture, urbanism, art, society, customs and rhythms of Barcelona than through someones personal impressions, thoughts and passions.

Juni's multinational heritage has instilled in her an innate curiosity of the world and all things in it. Upon returning back to London from 4 years of travel, she is proud to be able to share the city she loves. Her unquenchable thirst for booze, great food and good music (not necessarily in that order) makes her the perfect host or guest to any event or party.

Charlotte moved to London six years ago to train as an actress and has since been having an unexpected love affair with the city and it's sheer magnitude. When she's not acting, you can find Charlotte working in a little independent fashion boutique called Hub. Here, she has been able to immerse herself in the East London fashion scene, acquiring a taste for both old and new.
Next